Welcome back boaters! We hope you are itching to hit the lakes after a long winter's rest, because we have such great things in store for you! If you are a newcomer to the Carefree family, one of the greatest parts about the Carefree Boat Club is the yearly rotation of watercrafts, trading the older model for the brand-new one. This way, we can keep our fleet fresh and shiny, and it's like Christmas for our members every year! That's why we have constructed your very own virtual meet and greet to commemorate the addition of a few of our newest boats. We're calling it meet the fleet.
First, we would like to introduce the bimini-topped, sleek red, Manitou Oasis. This eye-catching tritoon is nothing short of an experience-for everyone on board. The noteworthy lounge chaise offers prime relaxation, while the overhead ski-bar ensures the fun and laughter are in-tow.

The Manitou Aurora is both highly accessible and family friendly. Her open floor plan and strategic design make it the ideal vessel to take on the waters with the people you love, while still riding in style. Our new Aurora is sure to be your dependable go-to, and your favorite lake day companion.
Check out this video!

The Manitou SES Entertainer is no doubt a crowd pleaser…it's right in the name! Tailored perfectly to your every entertainment whim, we promise this is something you don't want to miss. Bar seating, spacious lounge areas, and fully-functioning amendities epitomize the sleek and luxurious ambiance of the Entertainer, complimented by subtle hints of excellence all throughout the design. If you are looking to feel like a million bucks on a boat…you've come to the right place.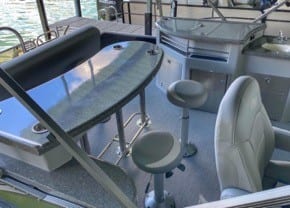 Ultimate performance and luxury is the name of the game for the newest Cobalt R3 Surf boat. Equipped with all the technology necessary for the premium on-board and watersport experience, the Cobalt delivers guaranteed comfort and exhilaration all in one. With a touch of a button, TruWave surfing technology is at your attention, along with a convenient transom activity platform making getting in and out of the lake easy. The glass cockpit and pristine Bluetooth speakers are icing on the cake of the superior design, whether you're looking for a leisurely outing, or backflips behind the wake.

Check out this video!
Hand-selected with the utmost of care, our newest fleet is splashed and ready to go. If any of these four have caught your eye, don't hesitate to visit us on Boone Lake, Watauga Lake, and South Holston Lake to take them for a spin. Come on out to all three lake locations to meet the rest of our brand-new 2020 fleet! Let us know what you think!