Carefree Boat Club of Coastal Virginia
Virginia Beach, Hampton & Norfolk VA
VIRGINIA BEACH
Long Bay Pointe Boating Resort
2109 W Great Neck Rd
Virginia Beach, VA 23451
Boating in Coastal Virginia has never been easier.
Welcome to Carefree Boat Club, the best alternative to renting or owning a boat! Why rent for a day when you could have unlimited boating access all year long? Did you know that your membership at Carefree Boat Club includes access to marinas across the region and the country?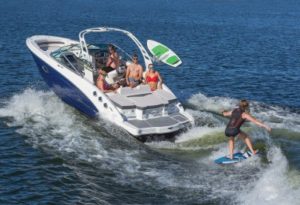 Carefree Boat Club strives to provide our customers with an affordable boating experience that is fun, easy and safe. We do this through professional boat safety training, quality maintenance, excellent customer service, and unsurpassed industry knowledge. Whether you are interested in Fishing, Watersports, or just cruising the calm waters of one of our inlets or bays - we have the right boat for you.
The Coastal Virginia, or Tidewater, area is one rich in history, natural beauty and diverse waterways – from fresh to brackish to salt. Conveniently situated midway along the Eastern Seaboard, this region is comprised of seven unique cities which have different histories and personalities but share a true appreciation of time spent on the water. Go birdwatching in the marshes, cast your line into one of our beautiful rivers or feel the wind in your hair while cruising down the oceanfront – you can do it all in Coastal Virginia and Carefree Boat Club is here to help you make the most of it…because, it's about time.
With a Carefree Boat Club membership you get:
Affordability
With membership as little as 1/3 cost of owning a boat, you can cross these expenses off your list: boat purchase, slip fee, insurance, maintenance, repairs, taxes, towing and winterization.
Unlimited Usage
Use the boats as often as you would like with no additional cost.
Our online reservation system allows you to pick the day, time, boat and Carefree location...easily.
Large Variety of Boats
Varieties include 18'-27' Cruiser, Deck, Bowrider, Pontoon, Fishing, Ski and Sail Boats & more! Members have options in both type of boat and type of activity!
Great Availability
With low member to boat ratios, an easy to use online reservation system & spur of the moment walk-on access members can enjoy boating how they like when they like.
On The Water Instruction
Instructors at each location provide Boat Safety training and handling skills so our members can comfortably and safely enjoy the great variety of boats for all activities.